This gorgeous aquarium was the highest-ranked UK entrant in this year's ADA aquascaping competition. Called 'Prairie Lands', it's the creation of Mark Evans. He answers a few of our questions.
What was your ranking in this year's ADA and are you pleased with it?
My ranking, from the official ADA results, was position 95. To make the top 100, for me, was very satisfying. Truthfully, I never thought I'd make such a high position.
How long has the tank been set up?
Approximately 16 weeks.
There have been comments about the low number of UK entries this year. Why do you think that it is and what can we do to increase the number of UK entries next year?
A good, but tricky question to answer. In all honesty, I'm not fully sure why UK participation was so low. There are many quality aquascapers in the UK, and many that could rank pretty high. I do think that the hobby as a whole within the UK, is still a little way behind other countries, with regards to layouts, ideas, and overall plant growing. This is by no means a bad thing. I, after all, still have many things to learn about the hobby as a whole.

Will you enter next year and what will you do with your aquascape to get an even higher place?
I've said openly that, if I do not have a scape that I feel is of a high enough standard, I wouldn't enter. I still stand by this. However, as my skills evolve, I'm able to iron out some of the flaws from previous tanks, thus making me feel a little more confident to enter a tank which I may have considered substandard.

What tips do you have for possible entrants in 2012?
Though ADA insists that the competition is not all about photography, I'd suggest taking the best possible picture you can. Firstly, remove all equipment. Try and recreate the 'ripple' effect on the water surface- Simple, yet effective things to practise. I've spent many an hour trying to get a great 'ripple' effect, and it's surprising how tough that can be to achieve.

Have you entered the ADA before and if so, where did you come?
This is my first ever time in the competition.

How long have you been into aquascaping?
I've been in the hobby for approximately six years now.

What is it about aquascaping that you love so much?
The opportunity to be creative. Coming from a musical past, I've always wanted to create something, whether that is music or art. To see a tank change appearance in a matter of days, is also very pleasing; you're never quite sure which way the overall aquascape will look.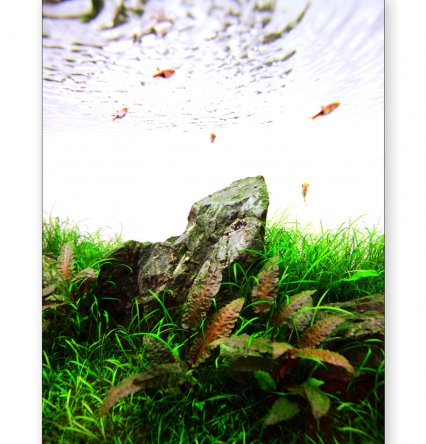 Aquarium factfile
Tank size: 120 x 45 x 45cm/48 x 18 x 18" Optiwhite
Filtration: Supafish filter, 1200lph
Decor: Coppice green granite stone
Plants: Echinodorus tenellus, Lilaeopsis, Eleocharis acicularis, Cryptocoryne bullosa and wendtii, Tropica.
Fish: Harlequin rasbora
Lighting: 2 x 54 T5 on for six hours per day.
Substrate: 50 l. Colombo Florabase substrate.
Fertilisation: EI method, CO2 via inline diffuser.
Check out some of the other great planted tanks in the Your Tanks section, including two more from Mark Evans.
Sam Clowsley
Jeremy Squires
Andy Hart
Mark Evans, part one
Mark Evans, part two
Balazs Farkas
George Farmer
James Starr-Marshall
Viktor Lantos
Norbert Sabat
Steven Chong
Jason Baliban
If you enjoyed this article, why not take out a subscription to Practical Fishkeeping magazine? See our latest subscription offer.