Bob Mehen spotlights a stylish lamp for smaller aquariums.
The market for 'nano' and shrimp tank products continues to be a boom area of the hobby with a seemingly constant stream of new miniaturised kit appearing in the shops. Polish company Aquael has been manufacturing aquarium products for 30 years, and its products are now familiar to many of us as solid, if not especially spectacular or cutting edge bits of kit.
The LEDDY SMART lamp shows a change of direction into a more innovative and stylish look compared to its previous products, which had a more traditional, budget feel. The light is designed with nano aquaria in mind, and Aquael recommends it for use on tanks between ten and 50 litres (2–11 gal) in volume with a depth no greater than 35cm/14in, although several of these units could be used in a row to light larger tanks.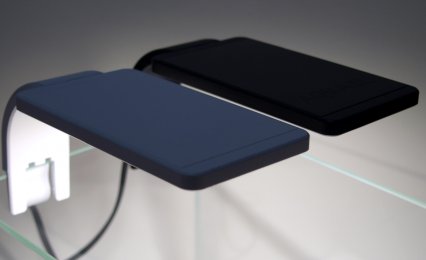 This is a very attractive looking unit with something of the 'Apple' look about its sleek curves and gloss finish and it takes advantage of the space-saving nature of LEDs with its slim, 1cm thick design. The unit is available in both black and white and looks extremely neat and unobtrusive.
The 'clip on' nature of the light means that any tank with glass thicker than 6mm is out and, likewise, tanks with hoods may not be suitable without significant adaption; it's designed primarily for open topped aquariums.
Two versions are available: a 6,500K 'sunny' one designed to bring out your fish's best colours and an 8,000K version developed with plant growth in mind.
The light comes with 1.6m/5ft of cable with an inline switch near the plug end — and that's as far as control goes: on or off. It also has an IP67 rating, which means it's protected against emersion in water up to 1m depth.
The manufacturer's two-year warranty shows the confidence that Aquael have in the longevity of these lights, but it describes the LEDs as having a potential lifespan of 50,000 hours, which could give you a 15-year lifespan if you ran the light for nine hours a day. Energy-wise, they also offer great value at just 6W, regardless of your light spectrum choice.
The only frustration for me is with the clip that attaches the unit to the tank. While perfectly functional, the addition of a more flexible attachment would have opened up the use of these lights for aquaria that have glass thicknesses greater than 6mm, enlarging their potential
market considerably.
Verdict
A simple, stylish and modern looking light unit ideal for nano aquaria, that is economical and easy to use and install. If you're considering upgrading from fluorescent lighting or setting up a new small aquarium, the LEDDY SMART is well worth checking out.
Price: RRP £24.99. More info: www.aquael.pl