Want to know how the products on sale really perform? We put them through their paces so you can sort the good from the bad...
Siamensis press
A photographic guide to freshwater fishes of Thailand
Tester: Steve Baker
RRP: $47 (About £38 at the time of writing)
More info: facebook.com/nonnp
Collecting more than 1000 photos and compiling descriptions of over 800 fish species has taken Dr. Nonn Panitvong some 20 years to amass. He hopes that his book will encourage the people of Thailand to appreciate the natural life of their local freshwater habitats, and to spur on conservation efforts. This is a beautifully produced book, and one to be appreciated. Some people may be put off by the fact that, apart from the scientific names and the key, it is all written in Thai, but you can get around that easily by using a Google translation app, or similar. With the use of a smartphone hovering above the pages, you can get an instant translation that you can pause, or you can scan a page for an immediate translation of whichever text you choose. It doesn't provide the perfect read, as you'll get the odd confused term or word, but it is certainly a good enough solution to understand the important information.
This book has helped me better understand my Glyptothorax catfish (even though my exact species is not from Thailand, and therefore not included) and it has re-ignited my love for the Horseface loach, Acantopsis bruinen, with great images of their biotope.
This publication has received the backing of taxonomist M. Kottelat, as well as biologist Fritz Rohde and ichthyologist Tyson R. Roberts, who says: "This well documented and superbly illustrated book is the best guide to Thai freshwater fish families, genera, and species, and their natural history, ecology and distribution. If you want to learn about freshwater fishes of Thailand, I can't think of a better source."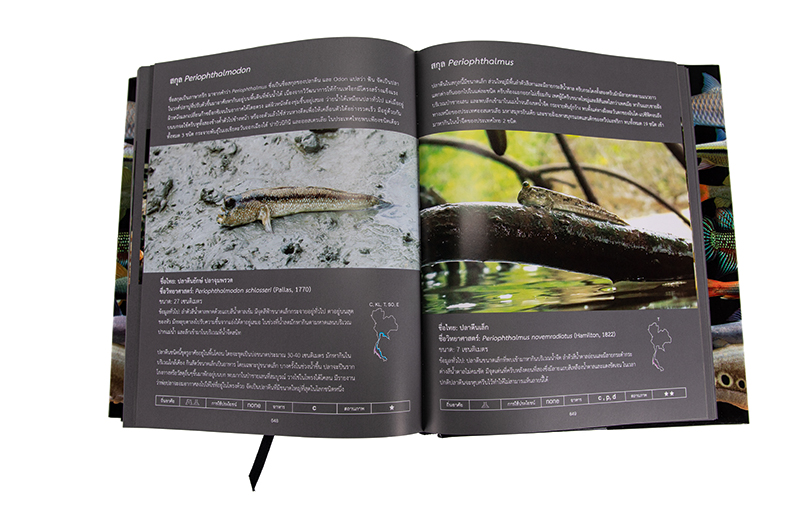 The 768 page book begins by explaining Thailand's natural watersheds and fish distribution patterns before describing the characteristics of the major rivers, and further exploring habitat types such as marshy swamps, caves, streams, and more. Two pages sum up the history of the country's ichthyological studies before it moves on to the species descriptions.
A general introduction is provided to each genus, explaining familiar traits and further details such as size, morphology and habits. Symbols are used to denote areas of distribution, habitat, diet, human use, and their population status.
Unfortunately, the cost of having the book delivered to the UK almost matches the purchase price of the actual publication. This is a shame as it could discourage some people from buying it. Having said that, I have reviewed books of a similar quality, size and content with a cover price of over £60.00.
Verdict
From the glossy cover to the shots of the wild species, this is an attractive book. It feels of a good quality and, once translated, is easy to understand, providing information which is not easily, if at all, accessible elsewhere.


Interpet Aquaverse Vision LED 100
Tester: Gabor Horvath
Duration: 3 months
Price: Expected at around £140
Info: interpet.co.uk
Selecting your new tank is always a difficult decision as the market is full of potential products.
If you are a manufacturer it's not too complicated to put together a starter's package. You need a reliable aquarium with usable dimensions, some lighting, filtration and — in the case of tropical tanks — a heater.
The leading brands all have these among their inventories so no surprise that there are several 100 litre starter aquarium sets on the market. They all usually retail around the same price, in the region of £120-150.
Interpet has been one of the key players in this segment for a long time with their Aquaverse sets but now they decided to update these popular products.
One of the main changes is the replacement of the older fluorescent T8 tubes with a much more energy efficient LED light. The included luminaire is sufficient lighting for the majority of aquarium plants.
There are also added blue LEDs for a night-light, so you can watch your nocturnal creatures if you wish to do so. The light switch only allows you to pick either the day-light or the night-light, and you can't have both running at once. There is no built-in timer or WiFi control, but those features aren't expected at this price range anyway.
Another change is the size — they put the old model on a diet.
The new Aquaverse Vison LED (H51.5xD31.2xL76.5cm) is shorter, slimmer and slightly taller than its predecessor.
The hood has been re-designed and now has a useful large feeding flap. A small issue is the lack of any hinges, so as it's almost impossible to keep the hood in upright position you need to remove it every time you need access to the aquarium.
What remains unchanged is the included Interpet CF2 internal five stage filter with cartridges, including Algaway pads. It has an advantage of easy cleaning (replacing cartridges) and can cope with a low bioload, but for such a large tank (especially if heavily stocked) I would prefer the Interpet PF3 internal filter, or at least the larger CF3 cartridge filter.
The kit also includes a bottle of Interpet Tapsafe, which dechlorinates and adds useful bacteria to activate the filter. The kit has everything you need to start a coldwater or temperate tank, but for tropical fish would need to buy a heater separately.
You can also buy a matching cabinet in black or oak colour, which has now also been re-designed and comes with fashionable push-open doors instead of handles.
Verdict
The filter seems a bit underpowered and a heater would be a useful addition, but in overall the kit does what is says on the tin, providing an affordable entry ticket to the world of aquaria.