This magnificent African butterfly peacock cichlid (Aulonocara jacobfreibergi) was brought all the way from Wales by Steven and Debby Edmunds for the Castleford AS Open Show at The Lock Lane Centre in Castleford on Sunday April 20, 2014. It won 'Best in Show' with 87 points.
However, Steve and Debby claim it is a Yorkshire fish really. They bought a pair of Peacocks from Bridlington on a visit in 2013 and one had blossomed into this fish, which they decided should be brought back to Yorkshire.
Castleford A.S. always holds unusual fish shows with major auctions that attract hobbyists from far and wide. For example, the 38 Classes in this Open Show included a Crustacean class — which had six entries, including this magnificent Blue lobster as well as tiny pink shrimps...
In the fish Classes there were 170 entries and these were judged to YAAS standards by their A Class judges Tricia Jones, Edward Cheetham, Trevor Douglas and Kevin Webb. In addition to the usual First, Second and Third categories, the top points for a single fish were awarded Best in Show and in the Pairs or Breeders Class, the top points were awarded Best Exhibit. This was won by Bernard Teal of FAST (Ferrybridge Aquarists) with a pair of Whiteseam Bettas (Betta albimarginata) with 85 points.
The winners were presented with their prizes by the CAS Show Secretary Steve Grant (also a Class A Judge). The picture below shows Steve and Debby Edmunds taking the Best in Show cup back to Wales.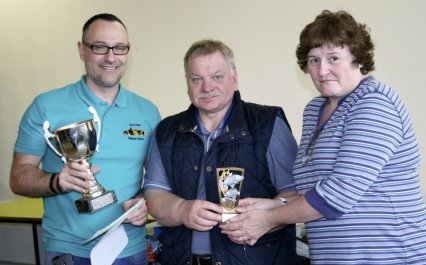 Meanwhile the traditional auction was attended by more than 80 in the audience with brisk sales by Castleford's auctioneer Dave Peake — for almost five hours!
Castleford AS has been an active society since the 1950s. It does have Open Shows that are different...for example it's the only UK aquarists' club that holds a Show exclusively for Catfish and Loaches. This will be on Sunday, July 13 at the same venue: Lock Lane Centre, Back William Street, Castleford, West Yorkshire, WF10 2LW. There is good parking at the next door William Street Sports and Social Club. Of course, there will be a Specialist Catfish and Loach auction!
Why not take out a subscription to Practical Fishkeeping magazine? See our latest subscription offer.
Don't forget that PFK is now available to download on the iPad/iPhone.