Can aquascaping be taken to another level and considered an art form? The signs were there at a recent exhibition, as James Starr-Marshall explains. Watch the video and see what you think.
For the first time in the UK, live and mature aquascapes have been displayed at an art gallery. The collection featured six exhibits created by PFK contributors George Farmer, Graeme Edwards and myself. Check out the video below:
The initial idea came while I was hanging pictures at my local arts centre, thinking how good the stark white walls of the gallery would look if adorned with high end, back-lit, Amano-style aquariums.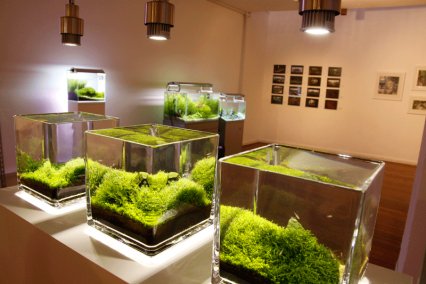 At the time I possessed neither the 'scaping skills nor resources to organise such an event, but two years later found myself helping out on the UK Aquatic Plant Society stand at the Festival of fishkeeping, to which George Farmer, Graeme Edwards and Dan Crawford had successfully moved live aquascapes from their homes.
We all decided that displaying aquascapes at an art gallery would therefore be logistically a distinct possibility.
I spoke to friend and artist Victoria Dempster and with the Aqueous Art Movement and her group of six artists we had enough people involved to hire the Maverik showroom on London's Redchurch Street. We advertised and sent invitations to a variety of potential guests.
All we aquascapers then had to do was each grow two quality creations to be ready on the same date, transport them from locations around the country and keep them healthy for the duration of the event… No pressure.
All were grown in for at least a couple of months prior to the exhibition. My nano tanks were particularly high maintenance, as the triptych piece has no filtration. Instead I performed daily 80% water changes for four months beforehand.
It was important to have the plants looking mature, rather than just showing lots of new plants on the day. The downside was having to transport the grown-in aquascapes for hours on the road, including through hectic London traffic!
To move the tanks we drained as much water as possible, right down to the substrate. We then covered the plants with cling film to prevent them drying out. Any fish and inverts were bagged up and kept in polystyrene insulated boxes.
George's tanks were the largest, with both set-ups weighing more than 50 kg/110 lb each before water added. With the gallery down two flights of stairs, this made for a manual-handling nightmare!
The four-day exhibition was estimated to have attracted more than 2,000 visitors, many asking technical or creative questions and a few looking genuinely baffled.
Visitors kept walking the length of Graeme's concept piece, inspecting it to see if the wood really did go through the glass. The triptych caused them to almost press their faces against the glass then walk several paces back to view it as a whole. People simply stopped and stared George's iwagumi, seemingly calmed by its serenity.
So many new eyes have been exposed to our passion of aquascaping. To them this is a new art form, to the hobbyist it is a new wave in its promotion.
Issues to be tackled
Filling the tanks with water was not easy. I brought in large bottles of water from home for the nano aquascapes, but Graeme and George had to utilise the gallery's water supply, carrying buckets two flights up.
Graeme didn't have a cabinet for his inside/outside log concept until Aquajardin supplied one. His log and lighting also needed some work to support them correctly, but we got there with a lot of help from Tony Swinney.
George nearly lost his new fish by leaving the CO2 on overnight. They all survived once he netted them into a bucket of freshly conditioned tapwater and performed water changes in combination with lots of surface agitation in the two aquariums.
Graeme's water in his concept aquascape became cloudy, so George lent him his Fluval G6 filter. I was the only aquascaper not to encounter any real issues – testament to my excellent planning and preparation!
So was it a success?
We have to look at what we set out to achieve. The first and probably most challenging achievement was for us all to arrive at the gallery at the same time with our exhibits in good health and undamaged. This is no mean feat and although there were hiccups we feel this was a great success.
Then if we were to present aquascaping to the widest possible audience the exhibition had to be attended by as many people from as many backgrounds as possible. Thanks to Practical Fishkeeping, UK Aquatic Plant Society and London Fish Keeping Club we were able to so do.
We spoke to many gallery visitors and an extensive invites list and flyer campaign meant we also contacted art and design journalists, and representatives from London Zoo Aquarium, London Aquarium and major trade outlets. We see the overall attendance figures as a marked success.
Did the exhibition illustrate aquascaping as art form? While debate rages on as to what constitutes art, nobody who attended seemed to think our work looked out of place.