Shubunkin is a winner at North East Goldfish Society show
The North East Goldfish Society held its 15th Open Show on July 19, 2015 at Redby Community Centre, just half a mile from the Sunderland sea front and its seaside promenade.
This year NEGS invited eight Nationwide judges, selected from the other three members of the Nationwide group: Northern Goldfish and Pondkeepers Society, Association of Midland Goldfish Keepers and Bristol Aquarist Society (NGPS, AMGK, BAS).
Each variety has its own Nationwide Standard and the judges chose the First, Second and Third in all 25 Classes, but in addition NEGS presents a trophy for the 'Best in Show', 'Best Owner's Bred' and 'Best NEGS Member' and the 'Highest Pointed Competitor'.
The Best in Show was a London Shubunkin by Alan Ratcliffe of the NGPS (and NEGS), pictures at the top of the page.
Alan (above left) receives his awards from Dennis Godfrey, Chairman of NEGS.
'Best Owner Bred' was won by Alan too. The 'Best Fish by NEGS member' was won by David Padfield and the 'Highest Pointed Competitor' was Sherridan Moores, Chairman of NGPS.
Every tank is prefilled with mature water tested for zero ammonia, zero nitrites, low nitrates and neutral pH. The testing kit is sponsored by the aquatic superstore store Chilton Aquatics, and manufacturers Aquarian, Nutrafin and Star Fisheries provided extra prizes for each class winner.
There was an auction of home-bred fancy goldfish with show quality fish going for only a pound or two.
Here are just a few of fancy goldfish that won firsts….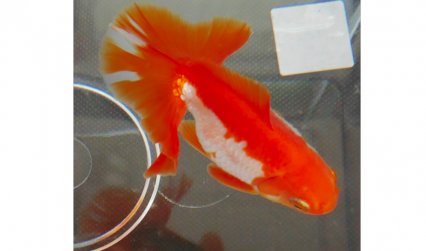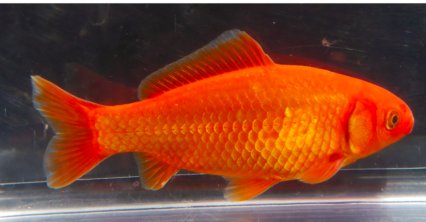 Forthcoming events
The next Nationwide Goldfish Group open show is on Sunday, September 6, 2015 when BAS holds its OS at the Manor Hall, Henfield Road, Coalpit Heath, Bristol BS36 2TG.
On Saturday, September 12 the NGPS holds its OS at St. Matthews Hall, Chester Rd., Stretford, Manchester M32 8HF.
All four goldfish societies will meet at the 2nd National Goldfish Show on Saturday, September 26, 2015 at Weston Favell Parish Hall, Booth Lane South, Northampton NN3 3EP, with 63 classes! There will be auctions too.
Why not take out a subscription to Practical Fishkeeping magazine? See our latest subscription offer.