Our coral reefs are disappearing at an unprecedented rate so it's hoped that a newly launched global database will lead to a greater understanding of the changes to reefs and marine environments as a result of over-exploitation, pollution and climate change.
It is estimated that 500 million people globally depend on coral reefs for food and income but between one third and one half of corals around the world have been lost in the last 50 years.
The Catlin Seaview Survey (CSS) has collaborated with scientists around the world to create The Catlin Global Reef Record — a first-of-its-kind global database and online standardised research tool relating to major coral reef ecosystems.
Freely available to both the scientific community and the general public, the Catlin Global Reef Record includes hundreds of thousands of stunning 360° panoramic images collected by the Catlin Seaview Survey team during expeditions of the Great Barrier Reef, coral reefs across the Caribbean and its current expedition to Bermuda, which launched just last week.
Within the next two years it will also include Catlin Seaview Survey baseline visuals and data from additional major coral reef regions of Southeast Asia, the Indian Ocean, the Middle East, and the Pacific in addition to the surveys already completed in Australia and the Atlantic Region (Bermuda and Caribbean). Over time, the Record will also seek to expand to other reef related datasets, becoming the central resource for data regarding the world's most biologically diverse yet highly threatened ecosystems.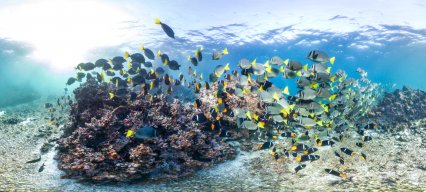 "The dramatic decline of coral reefs has been hidden from the world for too long. Now with the Catlin Global Reef Record this decline will be clearly visible for all to see," said Richard Vevers, Project Director, Catlin Seaview Survey. "We hope it will help scientists to find global solutions and ignite a new level of support for coral reef protection."
Why not take out a subscription to Practical Fishkeeping magazine? See our latest subscription offer.
Don't forget that PFK is now available to download on the iPad.