Cornish fishkeepers now have a second Maidenhead store after the popular aquatic chain opened a new shop near Wadebridge on the North Cornish coast.
Located in its own building on the Trelawney Garden Centre site, Maidenhead Wadebridge threw open its doors to the public at the beginning of October, and two months on is beginning to get into its stride with an ever increasing range of livestock now available.
The store boasts over 120 tropical, 40 marine, (plus a coral tray) and 15 coldwater and temperate tanks catering for everyone from beginners to old hands. Everything from rare livebearers and 'Dumbo' Betta to rift lake cichlids and whiptail catfish are on display alongside community staples like gouramis and tetras. Colourful marine fish, inverts and corals are also well catered for.
Exciting plans for a comprehensive pond section are taking shape outside ready for the spring season, with a huge Koi pond complete with acrylic viewing panel already under construction. All this alongside a wide selection of dry goods, aquatic plants and aquaria should mean that every aspect of the hobby is catered for.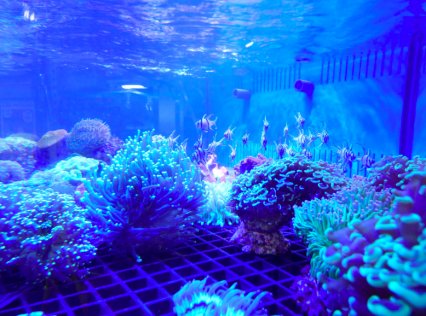 Ample free parking and seven-day opening means you can get your aquatic fix every day.
More info: Maidenhead Aquatics @ Wadebridge is at located at Trelawney Garden Centre, Sladesbridge, Wadebridge, Cornwall PL27 6JA. Tel. 01208 816009.