Manchester Sea Life Centre claims to be the first place in Europe that offers guests the chance to walk in the Sea Trek experience.
The new aquarium, opening 6 June at Manchester's Trafford Centre, allows visitors the opportunity to get up-close to the fish in the 11.4ft tall tank.
There are 35 species in the tank, totalling 1,092 specimens.
As well as fish, a giant green turtle is on display in Sea Trek. Ernie, the turtle's given name, was rescued from the Cayman Islands two months ago.
Curators explain he would have been made into turtle soup, but Ernie was rescued along with around 15 other turtles.
The tank contains species of sharks, too: both the blacktip and whitetip reef sharks.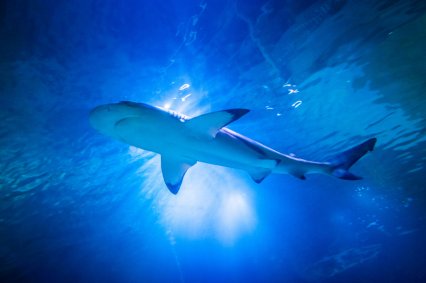 Visitors do not need any special training to participate. Instead they are fit with a helmet, which pumps in three times as much purified air as humans need, taught a series of hand symbols and instructed not to touch the tank's residents.
The tank water does not get into the helmet, either.
Manchester Sea Life Centre opens at the Trafford Centre tomorrow (6 June).
The Sea Trek costs £60 which includes entry to the aquarium and lasts for around an hour with 10 minutes underwater.