Aquarists at ZSL London Zoo are launching an urgent worldwide appeal to find a female mate for the last remaining males of a critically endangered fish species.
The Mangarahara cichlid Ptychochromis insolitus, is believed to be extinct in the wild, due to the introduction of dams drying up its habitat of the Mangarahara River in Madagascar, and two of the last known individuals are residing in ZSL London Zoo's Aquarium.

And as if the situation wasn't dire enough for this tropical fish species, the individuals at ZSL London Zoo are unfortunately both male.

The Curator of the Aquarium at ZSL London Zoo, Brian Zimmerman, along with colleagues at Zurich Zoo in Switzerland set about trying to find other Mangaraharan cichlids in zoos around the world – using international zoo and aquarium associations to reach as many experts and aquarists as possible, but had no luck finding surviving females.

The team at ZSL London Zoo are now launching a desperate appeal for private aquarium owners, fish collectors, and hobbyists to come forward if they have or know of any females in existence, so that a vital conservation breeding programme can be started for the species.
Above: female Ptychochromis insolitus photographed at Berlin Zoo.
Launching the appeal, ZSL London Zoo's Brian Zimmerman said: "The Mangarahara cichlid is shockingly and devastatingly facing extinction; its wild habitat no longer exists and as far as we can tell, only three males remain of this entire species.

"It might be too late for their wild counterparts, but if we can find a female, it's not too late for the species. Here at ZSL London Zoo we have two healthy males, as well as the facilities and expertise to make a real difference.

"We are urgently appealing to anyone who owns or knows someone who may own these critically endangered fish, which are silver in colour with an orange-tipped tail, so that we can start a breeding programme here at the Zoo to bring them back from the brink of extinction."

ZSL London Zoo is asking anyone with information about the cichlids to email the team at [email protected]

Mangarahara Cichlid and the Zoological Society of London
Conservationists from the Zoological Society of London, led by Brian Zimmerman, will carry out an emergency expedition to Madagascar to determine the exact status of the Mangarahara cichlid in the wild.
Currently classed as critically endangered by the IUCN, the species is considered by experts to be extinct in the wild since the construction of dams caused its river habitat to dry up. Donations towards this expedition can be made via www.zsl.org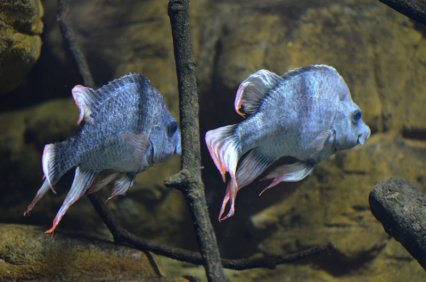 Above: The two remaining Ptychochromis insolitus at ZSL
Zoological Society of London (ZSL)
Founded in 1826, the Zoological Society of London (ZSL) is an international scientific, conservation and educational charity whose mission is to promote and achieve the worldwide conservation of animals and their habitats.
Their mission is realised through ground-breaking science, active conservation projects in more than 50 countries and two Zoos, ZSL London Zoo and ZSL Whipsnade Zoo. For more information visit www.zsl.org
International Union for Conservation of Nature (IUCN)
The International Union for Conservation of Nature is the world's oldest and largest global environmental organization and was founded in 1948 as the world's first global environmental organization.
Today it is the largest professional global conservation network and a leading authority on the environment and sustainable development with more than 1,200 member organizations including 200+ government and 900+ non-government organizations.
IUCN's work is supported by over 1,000 staff in 45 offices and hundreds of partners in public, NGO and private sectors around the world. The Union's headquarters are located in Gland, near Geneva, in Switzerland. For more information visit www.iucn.org