The Association of Midland Goldfish Keepers (AMGK) celebrated its 40th anniversary at its annual Open Show on Saturday, June 28 and although there were 30 Classes of fancy goldfish from Veiltails to Shubunkins, it was a Common goldfish that won the most awards!
The nine Nationwide judges awarded near perfect scores for this goldfish, owned and bred by AMGK member Sherridan Moores (who is also Chairman of the Northern Goldfish and Pondkeepers Society).
The many plaques and certificates were presented to Sherridan by Tony Roberts (pictured above) who was a founder member back in 1974 when the AMGK was created.
In recognition of Tony's 60 years of breeding and showing fancy goldfish he was also presented with a Certificate of Appreciation by AMGK Chairman Pat Davies and AMGK President Andy Barton.
In fact, 24 certificates were presented to selected members for their many years of service to the AMGK and every 1st, 2nd, 3rd and 4th winner at the OS received special Ruby Anniversary plaques.
The show took place at the West Orchard Church Hall in Strivichall, Coventry. There were 185 entries in the 30 Classes, held in 201 show aquariums (pairs entries needed two tanks if very large fish). The Nationwide judges pointed all these fish while members and visitors held an auction of 62 lots of goldfish. About 40 people filled the auction room where home-bred pedigree fancy goldfish went for around £20 each.
The AMGK, along with Northern Goldfish and Pondkeepers Society (NGPS), Bristol Aquarists Society and North East Goldfish Society (NEGS) are collectively members of the Nationwide Standards of Great Britain, where showers and judges apply the same Nationwide Standards. Here are just a few of these magnificent fish that won Firsts…
Tosakin.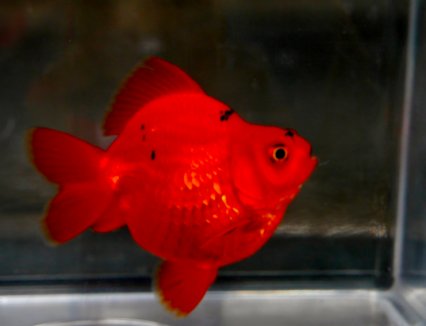 Ryukin.
Celestial.
Oranda.
Why not take out a subscription to Practical Fishkeeping magazine? See our latest subscription offer.
Don't forget that PFK is now available to download on the iPad/iPhone.