The British Killifish Association celebrated its half century over the weekend of October 9–11, 2015 at the Mercure Hotel, Wetherby, Yorkshire.
PFK had the pleasure of attending this special anniversary convention, which had a very welcoming and friendly family atmosphere. We spoke to members who had travelled to the event from as far as Plymouth in Devon — and one who had even flown over from Brazil!
The British Killifish Association was founded back in 1965 by a small dedicated group of enthusiasts (some of these are still members today), and is now one of the largest and foremost killifish organisations in Europe.
Events included a killifish show, which was incredibly well organised. The show fish were housed in a separate room, which was open to viewing for most of the weekend — and there were some real delights to be seen.
Prizes were awarded to the winners on the Sunday by the BKA's oldest member, 99-year-old Jessie Cox. Jessie was still keeping fish right up until last year, which at the time probably made her the oldest killifish keeper in the UK — maybe even the oldest fishkeeper. (If anyone out there knows differently, please get in touch, as we'd love to hear from you).
Best in Show was this Nothobranchius kadleci Nhamatanda (also the winner of the Nothobranchius class) by D. Wolfram from Germany.
The award for Best British Entry went to Jim Warner of the BKA — pictured above receiving his award from Jessie — for his Aphanius vladykovi Boldaji. Jim's winning fish is pictured below.
The class winners were:
Class 1 – Aphanius, Valencia and New World Killifish
Aphanius vladykovi Boldaji, J. Warner, BKA
Class 2 – South American Annuals
Pterolebias bokermanni Maryarita, R. Shiner, BKA
Class 3 – Rivulus and Kryptolebias
Laimosemion mahdiaensis GUY 97/5, R. Mattes, DKG
Class 4 – Nothobranchius, Pronothobranchius and Fundulosoma
Nothobranchius kadleci Nhamatanda, D. Wolfram, DKG
Class 5 – Epiplatys, Aplocheilus, Lampeyes (Old World)
Epiplatys dageti, K. Webb, BKA
Class 6 – Fundulopanchax, Raddaella and Callopanchax
Fundulopanchax sjoestedti, Warri J. Phunkner, BKA
Class 7 – Mesoaphyosemion (except Calliurum Group)
Aphyosemion gabunense gabunense, B. Merritt, BKA
Class 8 – Small Aphyosemion (not in Class 7)
Scriptaphyosemion liberiense Gbarma RL 97/EP82, T. Milkuhn, DKG
Class 9 – Breeders Bottom Spawners
Nothobranchius kadleci Nhamatanda MZCS 11/430, D. Wolfram, DKG
Class 10 – Breeders Top Spawners
Aphyosemion schioetzi Z 91/3, H. Ott, DKG
Other events included a killifish q and a session hosted by the BKA's Vice Chairman Steve Davidson, plus two excellent lectures — the first on the Saturday by Wim Suijker on his collecting trip to Guyana and French Guyana, and another on the Sunday by Heinz Ott on the genus Epiplatys (shown below, being introduced by BKA chairman Gordon Temperley).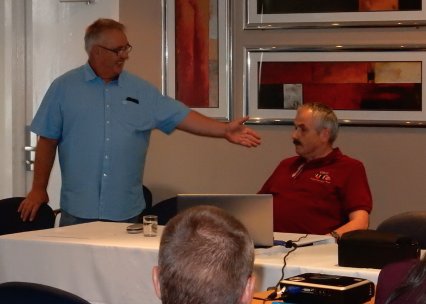 The Saturday evening featured the convention dinner, complete with a beautiful 50th anniversary cake.
There was a fish auction on both days, with the Sunday auction being especially keenly anticipated, as it followed on from the prize presentations and featured the killies that had been entered into the show. Bidding was brisk and some of the fish were sold for high prices — two of the breeders' teams — Epiplatys zenkeri Bidou and Laimosemion xiphidius — both went for £110.
Sponsors of the convention included JBL, Maidenhead Aquatics, Fish Science and Mars Fishcare and the BKA would like to thank them for their support.
All in all, this was a very enjoyable, fun weekend - if you want to join a fishkeeping association then the BKA comes highly recommended. The fish are rather lovely, too!
Next year's BKA convention takes place over the weekend of October 6–7, 2016.
The BKA attends and organises a range of yearly events ranging from table shows, auctions and charity events culminating with its three-day convention.
There are also various regional groups which can be of help to you and are an excellent source for stock. There may even be a group near you. So, if you would like to join a dedicated group of killifish enthusiasts or would juat like further information on the association,
visit the BKA website
.
Don't forget PFK is also available in digital format.
Click here
for more information on the iPad or iPhone version.
Alternatively,
click here
for details of the Android version.