A shoal of Red-eyed tetra looks amazing in a well-planted tank.
Silver belles for your aquarium
A shoal of Red-eyed tetra looks amazing in a well-planted tank.
Why not add a touch of precious metal to your tank set-up? We look at some sterling subjects for the home aquarium.

WORDS: BOB MEHEN
Sometimes the endless quest for vibrant colour in your aquarium can mean you overlook the more subtle. While bright primary colours are certainly eye catching, sometimes you want something less gaudy, a fish with a little more class — something that doesn't need to shout "look at me!" to get your attention.
Metallic fish fit this category and can look magnificent, and while a true gold colouration is as rare as the metal, silver is far more common, but certainly shouldn't be considered as the runners up prize. Who wouldn't be impressed by glittering shoals of silver flanked fish, or by the mirror sheen silver scales can provide? With a little care in terms of choice you can soon give your tank a silver lining and you won't have to pay precious metal prices for the privilege.
Why silver?
To the human eye, silver fish are gloriously shiny beauties. Just like the metal, their colouration is an aesthetic attraction to us, but the actual purpose of this precious metal livery is very different. While we might marvel at the lustre of their glittering flanks, potential predators find this mirror finish a confusing problem, making the fish invisible in some conditions, or flash in and out of sight as they catch the light or reflect back their surroundings.
This remarkable camouflage is currently the source of several scientific papers which have discovered that the silver scales not only reflect light but also scramble polarisation. As many fishermen will know, polarising glasses allow you to see through the jumbled reflections on the water's surface to more easily spot where any fish may be below. In the endless arms-race of evolution, many predatory species have gained eyes that do the same thing, meaning that being simply shiny and reflective is not always enough. The most recent papers on the subject have shown that the scales of these silvery fish have an 'omnidirectional' solution to this — light polarisation matching — meaning that in the battle between predator and prey, some fish are staying off the menu by remaining hard to spot. Commercial and military uses for this remarkable ability are sure to follow.
Here are some of our favourite silver fish
Red-eyed tetras are easy to keep and do well in community tanks.
Red-eyed tetra
Scientific name: Moenkhausia sanctaefilomenae, (Monk-house-eeya sank-ta-fill-oh-men-ay). Size: To 7.5cm/3in.
Origin: Brazil, Paraguay and Argentina.
Tank size: Minimum footprint of 90 x 30cm/36 x 12in.
Water chemistry: 6 to 7.5pH, soft to moderately hard water.
Temperature: 22–26°C/72–79°F.
Cost: Around £2 a fish but most shops do deals for groups of five or more.
Some fish seem to have always been around in the hobby and there's usually a reason for that, be it amazing colour, fascinating behaviour or a peaceful hardy nature. The Red-eyed tetra, Moenkhausia sanctaefilomenae, probably falls into the latter of these categories, but I'd argue it has far more to offer than simply being tough. These are satisfyingly chunky tetras, reaching around 7.5cm/3in, whose bodies are covered in brilliant silver scales, which shine all the brighter thanks to the fish's signature red eye and bold black tail bar. They make an excellent choice for beginners and will do well in most community tanks as long as the fish they share it with are not fragile enough to be intimidated by the the tetras or large enough to consider them a snack.
A large shoal would look magnificent in a plant rich, clear-water aquarium that mirrors their South American home.
Common hatchetfish, Gasteropelecus sternica.
Common hatchetfish
Scientific name: Gasteropelecus sternicla (Gas-tare-oh-pell-eek-uss ster-nick-lah).
Size: 4cm/1.6in.
Origin: Lower Amazon basin, Brazil.
Tank size: A minimum floor plan of 90 x 30cm/36 x 12in.
Water chemistry: 6 to 7pH, soft water preferred.
Temperature: 22–28°C/72–82°F.
Cost: Around £4 each.
Giant hatchetfish
Scientific name: Thoracocharax securis (Thor-ah-co-cha-racks sek-ur-riss).
Size: 9cm/3.2in.
Origin: Amazon river basin, Brazil and Peru.
Tank size: A minimum floor plan of 120 x 30cm/48 x 12in.
Water chemistry: 5 to 7.5pH, soft water preferred.
Temperature: 20–28°C/68–82°F.
Cost: Around £5 each.
Spotfin hatchetfish
Scientific name: Thoracocharax stellatus (Thor-ah-co-cha-racks stell-ah-tus).
Size: 7.5cm/3in.
Origin: Brazil, Peru, Venezuela, Colombia, Ecuador, Bolivia, Paraguay, and Argentina.
Tank size: A minimum floor plan of 120 x 30cm/48 x 12in.
Water chemistry: 5 to 7.5pH, soft water preferred.
Temperature: 20–28°C/68–82°F.
Cost: Around £5 each.
Spotted hatchetfish, Gasteropelecus maculatus.
Spotted hatchetfish
Scientific name: Gasteropelecus maculatus (Gas-tare-oh-pell-eek-uss mack-you-lah-tus).
Size: 5cm/2in.
Origin: Central and South America.
Tank size: A minimum floor plan of 90 x 30cm/36 x 12in.
Water chemistry: 6 to 7pH, soft water preferred.
Temperature: 22–28°C/72–82°F.
Cost: Around £4 each.
Silver hatchetfish, Gasteropelecus levis
Silver hatchetfish
Scientific name: Gasteropelecus levis (Gas-tare-oh-pell-eek-uss lev-iss).
Size: 3.5/1.4in.
Origin: Lower Amazon basin, Brazil.
Tank size: A minimum floor plan of 90 x 30cm/36 x 12in.
Water chemistry: 6 to 7pH, soft water preferred.
Temperature: 20–28°C/68–82°F.
Cost: Around £4 each.
When it comes to silver, the freshwater hatchetfish offer a wealth of choice with most of the commonly seen species (Marbled hatchetfish excluded) being gorgeous, silver sided fish. Perhaps the most metallic amongst them are from the genus Thoracocharax with the unimaginatively named Spotfin hatchetfish, T. stellatus and its close relative the Giant hatchetfish, Thoracocharax securis, both regular imports. These are lovely, big, deep-bodied fish that shine like a new silver penny and are well worth seeking out.
Slightly less impressive in terms of both size and silver shine, but still worthy of a mention are the Gasteropelecus genus of hatchetfish. Gasteropelecus maculatus, G.sternicla and G. levis are all commonly sold under the 'Silver hatchet' moniker. These are easily identified from their Thoracocharax cousins due to their smaller size, more shallow 'keel', less bright silver colouration and the presence of dark spots or a lateral bar on their sides.
All hatchets are powerful jumpers who use this ability in the wild to escape predation with leaps of several metres well within their capabilities. In the confines of an aquarium this useful survival technique can soon lead to an unpleasant and short lived foray into the carpet pile or a dusty corner behind your cabinet. As a result these fish should only be kept in well covered aquaria and ideally with some floating plants to help prevent them being so easily spooked. The sound of hatchets bouncing off your cover glass is almost as stressful for the aquarist as it is for the fish themselves. They are also all shoaling species so a minimum group size of six or more is recommended.
Silver dollar — not a good choice for planted set-ups!
Silver dollar
Scientific name: Metynnis hypsauchen (Met-eye-niss hype-sow-chen).
Size: 15cm/6in.
Origin: Brazil, Peru, Guyana and Bolivia.
Tank size: A floor plan of 180 x 38cm/72 x 15in for a group of adults.
Water chemistry: 6 to 7pH, soft water preferred.
Temperature: 23–28°C/73–82°F.
Cost: Upwards of £5 each for juveniles.
This is one of the few iconic silver freshwater species that can be kept successfully in aquaria. These vegetarian relatives of the piranha are restless swimmers and easily spooked, so you'll need a big tank for them long term. As a result don't be tempted by '50-pence' sized youngsters unless you have a suitably sized tank waiting; the road to fishkeeping hell is paved with good intentions and promises to upgrade to a larger tank 'when they grow'.
Check out the sumps and larger tanks in your local store and it won't be a surprise to see a few dollars down there with the plecs and Oscars returned when they rapidly outgrew their owners' ambition and budget. Topping out at around 15cm/6in, they will need space to grow and flourish, especially as they do best in shoals like their smaller tetra cousins.
While they naturally tend to live in rivers dense in vegetation, this can be hard to achieve in the home aquarium where most greenery will be seen as a tasty salad. Some people have success with hardy, less palatable plants like Anubias and Java fern, but most have to resort to artificial. They make great companions to midsized catfish and peaceful cichlids like Severum but despite their largely vegetarian diet, small fish might be seen as a protein boost instead of a tank mate.
The almost identical M. argenteus is occasionally seen as well, but those with deeper pockets might like to search out the rarer Red-hook and Black bar silver dollars, Myloplus rubripinnis and Myleus schomburgkii. Note that these fish can deliver a powerful bite so take care when netting them.
While often uninspiring in shop tanks, Moonlight gourami colour up beautifully once settled into a planted aquarium.
Moonlight gourami
Scientific name: Trichopodus microlepis (Trick-oh-pod-us my-crow-lep-iss).
Size: 15cm/6in.
Origin: Vietnam, Cambodia and Thailand.
Tank size: Minimum footprint of 90 x 45cm/36 x 18in.
Water chemistry: 6 to 7pH. Soft to moderately hard water.
Temperature: 25–30°C/77–86°F.
Cost: Around £5 each.
If ever there was a fish that deserves a bigger audience than it gets it's the Moonlight gourami, Trichopodus microlepis. When up against its somewhat gaudy cousins the Dwarf, Pearl or Opaline gourami, it can quite literally pale into insignificance. This is a terrible shame as it is a real Cinderella species, an ugly duckling that will transform into a beautiful swan if simply given the correct conditions and a little time. In most shops these fish appear dull grey, easy to walk by when their showboating brethren are in neighbouring tanks. Settled into a well planted tank with soft, slightly acidic water, they will colour up into a gorgeous lustrous silver sheen, with hints of green and purple, males gaining an orange-red throat and modified ventral fins.
If space allows they look especially magnificent in larger groups provided there is sufficient cover should squabbles ensue.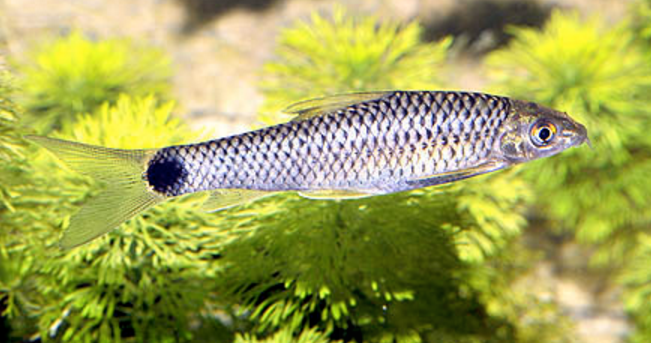 The Silver flying fox is great for algae control.
Silver flying fox
Scientific name: Crossocheilus reticulatus (Cross-oh-chee-lus ree-tick-you-lah-tus).
Size: 17cm/6.8in.
Origin: Thailand, Cambodia, Laos, Vietnam and southern China.
Tank size: A minimum floor plan of 120 x 45cm.
Water chemistry: 6 to 7.5pH, soft to medium hard.
Temperature: 16–25°C/61–77°F.
Cost: Around £8 each.
Many of us employ the services of Flying foxes, Epalzeorhynchos kalopterus or Siamese algae eaters, Crossocheilus sp. to help with a bit of algae control but if you're lucky and have a closer look in your dealer's tanks you might spot the rather lovely Silver flying fox. Like so many silver fish, they can be a little grey in the shop tanks, but settled into suitable quarters they are beautiful silver scaled fish, marked with a network of black highlighting the edges of each scale. A bold red eye and black spot on the caudal peduncle completes their livery. Keep them in groups of six or more to see their interesting hierarchical squabbles without the risk of it spilling over into bullying.
Discus tetras are smaller, more manageable alternatives to Silver dollars.
Discus tetra
Scientific name: Brachychalcinus orbicularis (Brak-ee-chall-sin-us orb-ik-you-lah-riss).
Size: 8cm/3.2in.
Origin: Suriname and Guyana.
Tank size: A minimum floor plan of 120 x 30cm.
Water chemistry: 5 to 7.5pH, soft water preferred.
Temperature: 20–27°C/68–80°F.
Cost: £5 to £8 each.
The appeal of Silver dollars is obvious in terms of their fantastic silver livery but their size can pose a problem for those who can't fit a suitably large tank in their home. Luckily there are some smaller characin alternatives offering many of the same qualities visually, but without the adult size. The Discus tetra, Brachychalcinus orbicularis, is one such fish that occasionally appears in the shops and is worth seeking out — in monetary terms think of them as a Silver dime! These hardy, adaptable fish may not quite match the mirror sheen of the dollars but are still attractive. Deep bodied when adult, topping out at around 8cm/3.2in, they will fit well into a more manageable 120cm/4ft long tank.
All that glitters…
Silver sharks are best avoided unless you have an enormous aquarium.
The Silver or Bala shark, Balantiocheilos melanopterus, is one of the most recognisable species in the hobby and is still commonly seen in many shops as shiny tiddlers. It's easy to see the attraction as these really are a strikingly handsome fish. Large, gloriously silver scales on a torpedo-shaped body, all topped off with bold black edged fins including a high dorsal and deeply forked caudal which give it its 'shark' common name. Add to this a generally peaceful demeanour and active open water lifestyle and it would appear they make the perfect aquarium subject. But sadly this is not the case and the huge majority of these lovely fish live shortened, miserable lives. With an adult size in excess of 30cm/12in, a need for plenty of
company of its own kind and a skittish nature, making them prone to mad dashes around the tank, they really are only suitable for the very largest home aquaria where they can live out their lives without the risk of stunting or constantly braining themselves against the
aquarium glass.
Tinfoils are stunning looking fish but they reach a bulky 30cm-plus.
Another regularly seen silver sided species is the aptly named Tinfoil barb, Barbonymus schwanenfeldii and B. altus. Back in the 1980's these were the classic companion fish to large cichlids such as Oscars and many tanks we'd now decry for welfare reasons were packed with Tinfoils (and probably a common plec or two). Cheap and readily available as 5cm/2in youngsters, their metallic bodies are offset beautifully by orange-red fins. These fish have phenomenal growth rates and your tank friendly babies will soon be blustering foot-plus tankbusters, no less beautiful but like the Silver sharks, only suitable for massive aquaria.
Silver Arowana are usually sold as small juveniles, but can reach almost a metre in length.
The Silver arowana, Osteoglossum bicirrhosum, is a majestic, iconic resident of the Amazon with a real prehistoric feel to it. Generally sold as very young fish (some so young they still have their yolk-sac hanging underneath), they are capable of reaching close to a metre in length. They are accomplished jumpers, known as 'Monkey fish' in their native range where they have been observed leaping from the waters of the flooded forest to snatch everything from insects to small mammals and reptiles from overhanging branches. Add to this a tendency to suffer from a nasty condition called 'drop-eye' when kept in aquaria and you can see why they are totally unsuited to all but the largest aquaria. Avoid.
The Shark catfish gets huge, will eat its tank mates and actually needs brackish water. Avoid it.
Another silvery beauty best avoided is the Columbian shark catfish, Ariopsis seemanni. These are a very handsome fish, especially when young. Their smooth, silvery bodies are topped by black, white edged fins, big eyes and flowing whiskers. Typically they are sold as 7.5cm/3in youngsters, all whiskers, fins and effortless charm and 'cute' appeal. What often eludes the unwary impulse purchaser is that not only will their new fish grow to over 30cm/12in long and eat anything it can cram into its surprisingly large mouth, but it isn't really a freshwater species. As adults these fish can be found cruising along the coasts and estuaries of Central America and while occasionally they may push up into freshwater this is usually only the males, taking their mouth-brooded eggs and fry upstream before returning to saltier climes. Oh, and did I mention that they're venomous?