George Farmer decides to set up a nature aquarium against a self-imposed deadline and in such a shallow tank that much of the décor is exposed to fresh air.
I couldn't refuse the opportunity to grab a bargain-priced ADA 45-F aquarium and I set myself the challenge of growing in a nature aquarium style of aquascape using mostly slow-growing plants.
The choice of design was straightforward. Complete with this lovely little tank was a piece of brilliant Sumatra driftwood. It was as if it had all been created just with this aquarium's dimensions in mind…
The tank is only 16cm/6.3" tall, so having the wood and plant life exposed to air is almost a necessity to fulfill this aquarium's creative potential.
Planting
The ADA 45-F is just 45cm/17.7" long, so fine plant textures are essential to maintain an appropriate sense of scale. I just love crypts and Tropica's two smallest species, Cryptocoryne parva and C. x 'willisii', would make ideal foreground and midground plants.
A new tiny Eleocharis species would fill the open right-hand space perfectly. Bolbitis and Anubias nana 'Petite' attached to the wood all add up to make the focal point, positioned approximately in accordance with the golden positioning ratio or the rule of thirds.
Because there were so many fine wood branches intersecting and crossing over one another, attaching plants was simple. All I needed to do was gently insert the plant roots and rhizomes between the small branches and that would be enough to secure.
Juncus repens is an interesting plant that's rarely seen in UK aquascaping. However, it was perfect for this aquascape as the flower spikes already present could be allowed to grow on further above the waterline.
Energy change
To be able to grow the plants as quickly as possible, before a deadline I had set myself, I had to resort to some unorthodox growing methods.
Lighting was intense with four 24w HO T5 suspended as close as I dare to the aquarium. I didn't get a chance to measure the PAR, but it must have exceeded 250µmol at the substrate, especially with the water level being so shallow.
With this crazy lighting it's essential to inject sufficient CO2 and other nutrients to ensure the plants are amply fed. Too much light with not enough CO2 is a surefire path to the dreaded algae monster! The gas was injected at an incredible rate using an external inline diffuser.
The water was flooded with CO2 mist, giving all the plants access to massive amounts of the gas.
I dosed three millilitres of Tropica Plant Nutrition+ and three millilitres of EasyLife EasyCarbo every day just after a 90% water change. This would ensure plenty of micro and macronutrients being available at all times and the large daily water change would help prevent algae.
I kept this regime up for just seven days before I had to attend a two-week course away from home. There was no way I could rely on my family to perform the daily maintenance tasks in my absence, so decided to change to a much lower-energy system.
I halved the lighting to two T5s and suspended the unit 80cm/31" above the water. CO2 had coincidentally ran out and it was not worth me replacing the 2kg cylinder in view of my impending departure so I put my trust in the EasyCarbo.
One millilitre of Tropica fertiliser and the same amount of liquid carbon fertiliser were added daily. I returned from the course and the growth was impressive! There was no algae and lots of new growth, especially with the new hairgrass that is reportedly a slow grower.
Special thanks to my eldest daughter for dosing the tank and topping up evaporation losses in my absence!
Equipment
Rather than go to the expense of having a cabinet custom-built to fit, I used my existing gloss white cabinet that previously supported a 60cm/2' shallow aquarium as featured in PFK, June 2012.
The cabinet's footprint exceeded the size of the ADA 45-F, but this could be used to my advantage.
The aquarium sits on the cabinet with an overlap of around 8cm/3.1". This allowed enough space for a hole to be drilled to allow through the filter hoses and glassware.
The 60cm/24" luminaire did not look too out of place either, being flush with the cabinet.
In the long term I would definitely consider building the luminaire as a dedicated fixture that would allow the power cables to be hidden while suspending the unit.
I used a 12mm gUSH nano glassware filter inlet and outlet. Because the tank is so shallow I had to raise the inlet to stop the bottom from interfering with the substrate. I would certainly like to see a manufacturer decide to produce glass filter inlets for very shallow aquariums!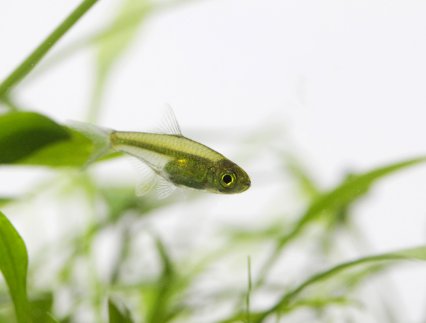 Livestock
Having a maximum volume of less than 17 l/3.7 gal, this aquarium is very limiting as regards fish choice.
Half a dozen Microdevario kubotai were supplied by The Waterzoo, Peterborough, and a dozen yellow variety of Cherry shrimp were sent by freshwatershrimp.co.uk.
These were added after the CO2 injection had stopped, for there's no way any fish or shrimp could survive the huge levels of gas I injected in that initial week!
M. kubotai make brilliant nano fish and their subtle colouration provides a pleasant blend with the green planting and the yellow shrimp offer a refreshing change to the usual bright red Cherry we often see.
How I created my shallow tank set-up
Follow George's progress from empty tank to completed project in these easy steps…
1. The cabinet is drilled to create an access point for pipes and hosing.
2. A mixture of both brown and black TMC NutraSoil is added to the base.
3. A single piece of Sumatran driftwood is added a third of the way along.
4. Anubias and Bolbitis plants are added directly to the wood.
5. Juncus and Cryptocoryne species are added at the 'dense' end of the 'scape.
6. Small amounts of Rotala are added for density and bushing within the layout.
7. The quieter end of the tank is filled out with Crypts and Hairgrass.
8. The tank is filled and any final planting adjustments made.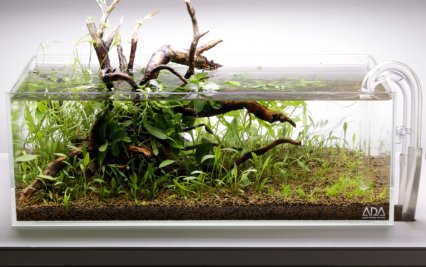 9. The completed tank, shown here 14 days after planting.
Cost at a glance
Tank and cabinet: ADA 45-F 45 x 24 x 16cm/18 x 9.5 x 6.3"; PureAqua gloss white 60 x 40 x 70cm/24 x 16 x 28" cabinet – £250
Lighting: Arcadia four 24w T5 luminaires – £200
Filter: Fluval G3 with gUSH 12mm glassware – £350
Substrate: TMC NutraSoil black and brown – £15
Fertilisers: Tropica Plant Nutrition+, EasyLife EasyCarbo – £25
Plants: Anubias barteri var. 'Petite', Bolbitis heudelotii, Eleocharis sp. 'Mini', Juncus repens, Cryptocoryne parva, C. x 'willisii' – £100
Fish: Microdevario kubotai, Neocaridina heterpoda var. 'Yellow' ­ £40
Total: £980.
If you're a fan of shallow aquariums or just looking for some inspiration, check out George's other shallow tank aquascape.
Why not take out a subscription to Practical Fishkeeping magazine? See our latest subscription offer.
Don't forget that PFK is now available to download on the iPad/iPhone.