The largest fish show in the north is the annual Tyne-Tees Area Association's Open Show, auction and Three-Rivers Championship. The Best in Show winners from this year's Northern clubs are entered for this championship. The winner of this year's show was a Blue phantom plec, L128, Hemiancistrus sp.
There were 19 entries at the venue: Tanfield Lea Primary School in Stanley, Co. Durham on Sunday, September 7.
Although known as the Blue phantom, the colour of this fish can change to become more green over time, so to prevent confusion the fish was entered as simply L128. The fish was a true Blue phantom when it was acquired by its owners, Stuart and Sarah Brown from Stafford. After three years' care and growth, it has been entered in three fish shows this year — and has won a First every time... It is now the Three-Rivers Champion with 87 points.
Mr and Mrs Brown's fish club is a newly-formed one called SAS (Stafford Area Society) and has no meeting rooms or committees — it is just Online via Facebook. The club is just a few weeks old but already has 600 followers. It will have something special to place on its 'wall' now — not just the L128 but the fact that the Browns (pictured above) also won 2nd, 3rd and 4th in the Championship class!
In the Tyne-Tees Area Open Show section there were 78 entries, all judged to FBAS standards, and the Best in Show was a Vaillantella maassi or Fork-tail loach by Alan Finnigan of Leicester AS. Alan is pictured below right, being presented with the TTAA Memorial Shield by Show Secretary Steve Nelson.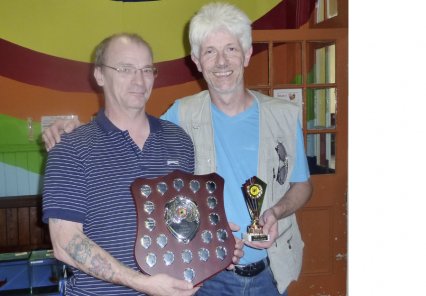 The Memorial Shield has the names of top aquarists who have passed away engraved on it, with Ken Scott, Ronnie Flyn, John Cowan and Bob Esson all remembered friends of the Tyne-Tees Area Aquarist Societies.
The Three-Rivers show included an auction attended by about 50 visitors, preceded by a lecture on The History of the Aquarium by Dr David Ford of Aquatic Services.