A new pets and aquatic outlet opened in Sheffield, South Yorkshire, on January 4, owned by two very young but well qualified brothers.
PANDA (PetsANDAquatics) is located on Mowbray Street, Neepsend, Sheffield. The owners are 23-year-old Keller Hardy (pictured above right) and his brother Kobe (on the left), who is just 18.


Both have travelled to Hong Kong and the Philippines and Keller has also travelled to Brazil and Uruguay, learning about and catching wild tropical fish.

They have kept fish all their lives and have bred and shown many kinds of fish. Both brothers are members of Sheaf Valley Aquarist Society, which has been the YAAS show league champion for the last three years. Keller and Kobe have won the SVAS Champion of Champions for the past three years, too.
They set up their business after completing a business plan and getting start up loan funding from the government.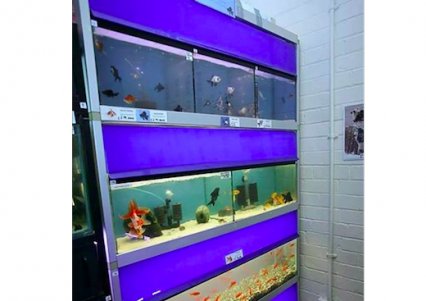 PetsANDAquatics sells a broad range of freshwater aquatics including all the usual and unusual species of fish, amphibians and inverts and if they don't stock it they will try and order it in for customers.
The cheapest fish in the store at the moment are some fish which the brothers have rescued (they were being sold as fish food) at just 40p each. The most expensive fish is currently an L046 Zebra plec at £100.
You can find the shop at 43 Mowbray Street, Neepsend, Sheffield S3 8EN. Tel. 0794 354 2758. It's open seven days a week.
Why not take out a subscription to Practical Fishkeeping magazine? See our latest subscription offer.
Don't forget that PFK is now available to download on the iPad/iPhone.