Nationwide Goldfish triple win for Bob!
The second Nationwide Goldfish Open Show - a combined show with four of the UK's Goldfish Societies - was held at Weston Flavell Parish Hall in Northampton on Saturday, September 26.
There are 63 Classes, but just four major awards with engraved shields for the Best in Show, the Best Exhibit, the Best Breeders Goldfish and the Best Team of Four. Bob Jones of the Bristol Aquarist Society won three of these awards.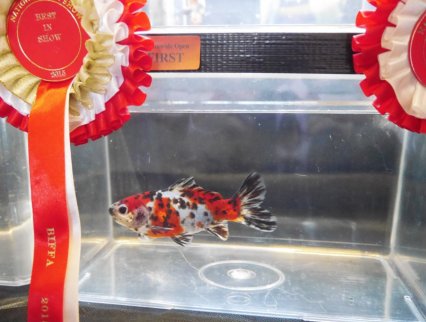 The Best in Show was a London shubunkin (pictured above) by Alan Ratcliffe of the Northern Goldfish and Pondkeepers Society. Alan is well known for his breeding line of London shubunkins with their good blue background colour. This fish has won awards at many other Open Shows.
The annual show sees goldfish fanciers from the North East Goldfish Society, Bristol Aquarist Society, Association of Midland Goldfish Keepers and Northern Goldfish and Pondkeepers Society compete for National Awards to the new Nationwide Goldish Standards.
Eleven judges trained to these Standards from all four societies pointed the 63 Classes...there were 165 entries and 64 tanks of breeders' goldfish were auctioned by Mick Smith (AMGK) during judging time.
The Awards ceremony ended the OS with many cards for 1st, 2nd and 3rd — but Bob Jones (pictured at the top of the page) took three of the shields, with one fish winning two of these awards. It was a nacreous Veiltail (pictured above).
Bob also won the Best Team of Four with his Moors...

The Show Manager Andrew Barton (AMGK) stated that the 2016 Nationwide Show will be in a new, larger venue and the Nationwide Committee Chairman Sherridan Moores (NGPS) announced that the Nationwide Goldfish Standards had been finally agreed and the publication will be available soon.
Here are some of the Firsts in the Nationwide Classes at the Nationwide Show...
The Common goldfish
The Oranda
The Nacreous fantail
There are (so far) 17 Nationwide Standards of UK goldfish!
Don't forget PFK is also available in digital format.
Click here
for more information on the iPad or iPhone version.
Alternatively,
click here
for details of the Android version.