The Fish of Fishes award celebrated its Ruby Anniversary this year, at Stockton on the Forest, near York.
The Yorkshire Aquarist Festival (YAF) started in 1975 and incorporated the 'Fish of Fishes' where only fish that had won a First in the year could compete. YAF grew in popularity into the 80's and 90's and at its peak they occupied the Doncaster Racecourse for two days with 10,000 visitors!
But the popularity of the clubs faded into this century and YAF moved to ever smaller venues and eventually became a one day Open Show for all members of the Yorkshire Association of Aquarist Societies. 'Fish of Fishes' remains its top award though and so, at this year's OS, it reached its Ruby Anniversary.
The winner was Bede Kerrigan of STAMPS (South Tyneside Aquatic and Marine Aquarist Society) with his Aulonocara jacobfreibergi, which has won many awards this year.
The OS was held on Sunday, July 5 and included the ever-popular auction. Auctioneer Steve Jones (YAAS) sold hundreds of items over several hours. Meanwhile, judges Trish Jones, Steve Grant, David Marshall, Mick Price, Kevin Webb, Edward Cheetham and Trevor Douglas of YAAS plus Paul Brown of FBAS pointed the 190 entries — and chose the Fish of Fishes.
The same 'firsts only' is applied to pairs too, giving the 'Best Exhibit of the Year' and this was won by Steve Grant (Castleford AS) with his often award-winning pair of Bunocephalus larai.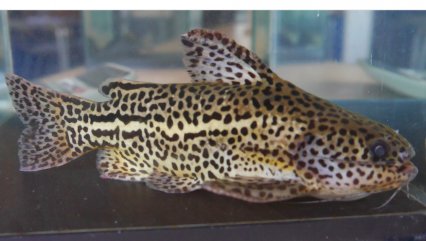 The Best in Show was a Liosomadoras oncinus catfish with 85.5 points, by Mike Kirkham of AAGB (Anabantoid Association of Great Britain).
All the Yorkshire Clubs won a First in the 37 Classes including Castleford, Otley, Ashby, Bradford, Ryedale, Workington, Sheaf Valley and Tyneside, plus a member all the way from Southend & DAS. This was Roy Chapman….
He achieved third place in the Fish of Fishes with a tiny, but perfect, Neon Green Rasbora Microrasbora kubotai. Here he is receiving the Place Card reward from YAAS Chair, Ray Stansfield.
The next Open Show by YAAS is again at The Village Hall, Stockton on the Forest (YO35 9UJ) and is called 'Friends of Yorkshire'. It will include a round of The British Livebearer Association Fancy Guppy League and is on Sunday, August 16 2015.
Why not take out a subscription to Practical Fishkeeping magazine? See our latest subscription offer.
Don't forget that PFK is available in digital format for the iPad/iPhone and there's also an Android version on the Google Play news stand.