Nathan Hill gets to play with this smart-looking Koralia pump from Hydor.
Whatever you might think of Hydor, you can't accuse them of resting on their laurels. These guys and gals have themselves a think tank somewhere, and they're pouring endless brain nuggets into it.
The new pumps are the most futuristic to date, and to be fair, none of the Hydor range was ever old hat to start with. They've changed so much — the shape, the outlet, the strainer, even the way it attaches, and all of it is an improvement.
First up, you've got the shape. The back of the pump is now distinctly 'eggy' and smooth, with a rounded rump. The tank bracket that now holds it in place is a rounded egg cup of a thing, and bringing the two together reveals that they're both kitted with magnets. This ball and socket design, seemingly without any restriction, gives unimpeded directionality around the tank. Aspiring designer doctors take note, breakdancers of the future will want these fittings in human bodies.
The ball and cup socket is then attached to the glass by — you guessed it — another magnet. Once in place, this pump's going nowhere. Even better, the rubberised nature of these elements mean that the bracket doubles up as a noise reducer, bringing everything to a low hum at worst. It's good for glass up to 1.5cm thick, but over that you're on your own.
The strainer/housing of the unit is now spiral shaped instead of dead straight, making for a more efficient water uptake. In fact, Hydor pulled off the unthinkable, in taking an already energy efficient range of pumps and making them consume even less power for yet more flow. The Koralia 7000 delivers up to 7000 lph of flow for just 4.5W power consumption (based on UK voltages). Not bad when you consider the old Koralia EVO 5,600 delivered 1400 lph less flow for 5WW consumption. Good job, Hydor.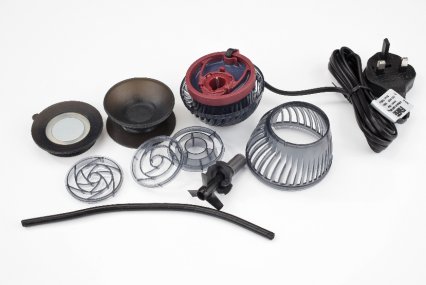 On the outlet you get four options. Option one is completely open, bumping out a heady 7000 lph. Then you have two fish guards (small and medium) impacting on flow and bringing it down to 4900 and 5800 lph respectively. Lastly, there's a diffuser for a wider spread of flow, and that brings things down to 5300 lph. You get all the different covers in the package so you can pick and choose at your leisure.
In Koralia style, access to the impeller is easy, and just involves wriggling the outer shell of the unit in two.
The Third generation pumps are still compatible with timers and wave making devices, and as a bonus, there's even a cable protector (which you need to put on yourself) for additional peace of mind.
There are three models available. The Koralia 5000 at 3.5W for 5000 lph flow, the 7000 model mentioned above, and a larger 9000 model that pumps out 9000 lph for 6.3W.
Verdict
For the SPS crowd that like their water howling through like a hurricane, the new Koralia range will be bang on the money. As pumps go, these are the snazziest to date. They look smart and run smart. At this rate, Hydor will be the first company to put a reef tank on the moon, they're that ahead of the game.
Ease of use:
5/5
Features:
5/5
Value for money:
4/5
Overall:
4.5/5
Price:
Koralia 7000 lph £129.99.
Why not take out a subscription to Practical Fishkeeping magazine? See
our latest subscription offer.
Don't forget PFK is also available in digital format.
for more information on the iPad or iPhone version.
Alternatively,
for details of the Android version.