We reveal the UK's top aquatic shops, as voted for by the readers of Practical Fishkeeping magazine.
This year witnessed an even greater diversity of entrants, writes Nathan Hill, with some familiar faces exchanging top spots, while others remained where they already were, as proud defenders. But most exciting is the taking of the highest accolade — Retailer of the Year — by none other than Aquahome Aquatic Centre of Leyland (pictured above).
Aquahome has been flexing its muscles for a few years now, becoming the North-west Retailer of the Year in both 2012 and 2013.
Upping its game to take on the national stage, this year not only saw it make a hat-trick of regional success, but Aquahome has sprung to the top of its game, becoming the number one store that you all overwhelmingly voted for. Only last year, former PFK editor Jeremy Gay flagged it as the one to watch, and we all noted then that if voters had slipped down a few extra categories for the store, it would have romped home with multiple wins.
"All the team here at Aquahome Aquatic Centre are very proud to have won Retailer of the Year. After winning North-west Retailer of the Year in 2012 and 2013, to win the North-west 2014 again but to finally win the big one, Retailer of the Year, is a great achievement for all the team," says manager Chris Haigh.
"We work extremely hard to keep our customers happy and our store clean, tidy and most importantly our fish systems healthy and stocked with great quality livestock from all over the world, so to have this recognised with the PFK Readers' Poll, fills us all with enormous pride! We would like to thank all our loyal and valued customers for taking the time to vote for us."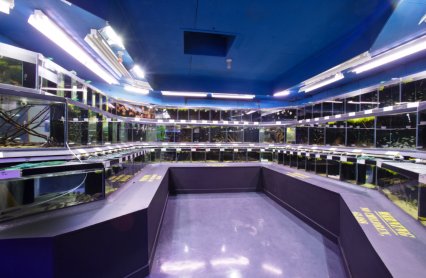 Kings of the categories
Catfish Retailer of the Year has been seized this year by Wigan store, Pier Aquatics (pictured above). Pier has long been something of a pilgrimage for the PFK team, always leaving us humbled at owner Neil Woodward's unstoppable powers in acquiring the unseen and unusual. If we're ever stuck for inspiration about what to keep, this is the place we'll turn to.
The Cichlid Retailer of the Year slot has been wrestled out of Southern hands and carried back to Yorkshire by Ferrybridge Aquatics, and for anyone who has shopped there, this will come
as no surprise. Owner Kevin Lawton can happily hang this latest accolade alongside his continuous string of Readers' Poll recognitions.
Oddball Retailer of the Year has moved down to the wild west, being taken by The Aquatic Store, Bristol. Year on year we've watched The Aquatic Store's legion of followers grow and grow, doing owner Steve Chivers proud with this latest title. I'm confident we'll be seeing this name pop up again and again, as he continues to excite and elate the 'Brizzle' audience.
There's no surprise that Sharnbrook Shrimp once again strides confidently past the line to become Shrimp Retailer of the Year. We were initially dubious at the concept of a shrimp-only retailer on UK shores, but owner Lucas Witte-Vermeulen has left us all with egg on our faces. His glorious store continues to pump out the finest shrimp you'll see, and customers are in agreement: there's nowhere better for crustaceans!
Another very familiar face is Abyss Aquatic Warehouse, sat immovably as Marine Retailer of the Year. If you've been there, you'll know that this is one store that's not scared to stock heavily, with tanks filled to bursting point with incredibly healthy fish and corals. There's seemingly no limit on expense either, and for the opulent aquarist, you'll not find anywhere better to splash out on some of the rarest finds around. With bright tanks, bulging healthy fish and beaming staff, it'll take something really exotic to trump this store in the future!
Maidenhead Aquatics continues to dominate the lands north of the border, with Scotland Retailer of the Year going to Fishkeeper Glasgow in first place and Fishkeeper Edinburgh in second, mirroring last year's result. All we can wonder is what will happen if they open more sites up there!
It isn't just the Scottish stores making the grade from the Maidenhead chain, either, with Maidenhead Truro and Maidenhead Shirley also nuzzling their way into the top 40 list, and the Shirley store taking West Midlands Retailer of the Year.
There's no sign that The Green Machine in Wrexham is ready to relinquish its hold in the Wales Retailer of the Year spot, and with its fresh, alternative approach to retail, we'd be surprised to see it slip. Feeling more arthouse than fish house, this is one of the few stores where you can get your feet up and just admire outstanding aquascapes from designers right at the top of their game. This is a shop that leads by example.

Club of the year
Ilford and District Aquarist and Pondkeepers Society celebrates its 80th birthday this year, and what better way to see it in than to be voted Club of the Year by its followers! This category was only introduced last year, and Ilford has now taken the lead two years running. The heat is now on to see if it can pull off a third year, especially in the wake of so many up and coming online clubs and their fleets of followers. Only time will tell.

We love marine!
As interested as I am in the who's who of retailers, I'm always taken by the feedback over products. And this year, it seems that voters have been overwhelmingly taken with all things salty. Fluval's Sea range of supplements won the Marine Product of the Year category, and with its goods dominating shelves across the UK, this is something I half expected. Fluval has long been hesitant in embracing the marine market, but now that it has, it's romping home with all of the glory — let's just hope there's more of it in the offing. Given that Rolf C. Hagen also steamed past the competition to be voted Manufacturer of the Year, it's safe to say it's on a roll.
Evolution Aqua's Pure Aquarium filter supplement is at the top of the Tropical Product of the Year category, and having experience of these curious jelly balls, I can see why. For years, the key to locking up the 'right' bacteria for a successful filter has proven cumbersome and unpredictable, but EA nailed it, with the ultimate in user-friendly filter supplements. Given the landslide of votes in EA's favour, it seems I'm not the only one getting incredible success with this product.
Onwards and upwards
Let's be honest. Being an established retailer or manufacturer in the aquatics business is now harder than it has ever been. The next 12 months are going to be as challenging as ever, and it will be interesting to see if standards can be maintained across the board.
To the current winners, I say this: don't let things slip. You haven't seen the numbers of votes trickling in for small retailers in their infancy, but I have. Fledgling sites are popping up everywhere, and some of them are already gaining impressive followings. Drop the ball for just a short while and some surprising left-fielder could be scooping your title next year. Remember how Rare Aquatics came from nowhere to take major titles for several years running? That scenario will repeat itself, I promise you.
Watch this space, everyone. I suspect that next year will be bringing in a glut of new and unknown stores and possibly even brand names. It's a new world we're living in. Exciting, isn't it!
Here's the full list of top aquatic shops — and products.
Retailer of the Year
Aquahome Aquatic Centre, Leyland, Lancashire
Runner-up
Lincs Aquatics, Alford, Lincolnshire
Small Retailer of the Year
H20 Habitat, Woldingham, Surrey
Runner-up
Ferrybridge Aquatics, Wakefield, West Yorkshire
Cichlid Retailer of the Year
Ferrybridge Aquatics, Wakefield, West Yorkshire
Runner-up
Sweet Knowle Aquatics, Stratford-upon-Avon, Warwickshire
Catfish Retailer of the Year
Pier Aquatics, Wigan, Lancashire
Runner-up
Rare Aquatics, Crewe, Cheshire
Oddball Retailer of the Year
The Aquatic Store, Bristol
Runner-up
Wildwoods Water Gardens, Enfield, Middlesex
Discus Retailer of the Year
Devotedly Discus, Polegate, East Sussex
Runner-up
Woodford Aquatics, London
Marine Retailer of the Year
Abyss Aquatic Warehouse, Stockport, Manchester
Runner-up
H20 Aquatics, Brentwood, Essex
Aquatic Plant Retailer of the Year
Emperor Tropicals, Plymouth, Devon
Runner-up
The Green Machine, Wrexham, Wales

Freshwater Shrimp Retailer of the Year
Sharnbrook Shrimp, Rushden, Northamptonshire
Runner-up
Woodford Aquatics, London
Pond Retailer of the Year
Woodford Aquatics, London
Runner-up
Lincs Aquatics, Alford, Lincolnshire
Scotland Retailer of the Year
Fishkeeper, Glasgow
Runner-up
Fishkeeper, Edinburgh
Northern Ireland Retailer
of the Year — joint winners
Exotic Aquatics, Belfast, and AMC Aquatics, Limavady, County Londonderry

Republic of Ireland Retailer of the Year
Seahorse Aquariums, Dublin
Runner-up
The Aquatic Village, County Dublin
North-east Retailer of the Year
Fish Alive, County Durham
Runner-up
Durham Discus, County Durham

North-west Retailer of the Year
Aquahome Aquatic Centre, Leyland, Lancashire
Joint runners-up
Abyss Aquatic Warehouse, Stockport, Greater Manchester, and Oasis Aquarium, Salford, Manchester

Yorks and Humber Retailer of the Year
Ferrybridge Aquatics, Wakefield, West Yorkshire
Runner-up
South Yorkshire Aquatics, Doncaster
East Midlands Retailer of the Year
Lincs Aquatics, Alford
Runner-up
Wharf Aquatics, Pinxton, Notts.
West Midlands Retailer of the Year
Maidenhead Aquatics, Solihull
Runner-up
Forty Fathoms, Kidderminster, Worcestershire

East Retailer of the Year
The Coral Cave Aquatic Centre, Hardwick, Cambs.
Runner-up
Seapets, Colchester, Essex
Wales Retailer of the Year
The Green Machine, Wrexham, Wales
Runner-up
Jaydee Aquatics, Wrexham, Wales

London Retailer of the Year
Woodford Aquatics, London
Runner-up
The Aquatic Design Centre, London
South-east Retailer of the Year
H20 Habitat, Woldingham, Surrey
Runner-up
Abacus Aquatics, Sidcup, Kent
South-west Retailer of the Year
Emperor Tropicals, Plymouth, Devon
Runner-up
The Aquatic Store, Bristol
Online Retailer of the Year
Seapets: www.seapets.co.uk
Runner-up
New Atlantic: www.newatlanticonline.co.uk
Club of the Year
Ilford and District Aquarist and Pondkeepers Society
Runner-up
Bristol Tropical Fish Club
Tropical Product of the Year
Pure Aquarium, Evolution Aqua
Runner-up
Fluval FX6, Hagen
Marine Product of the Year
Fluval Sea supplements, Rolf C. Hagen
Runner-up
V2 900 iLuminAir, TMC
Pond Product of the Year
GreenGo, Kockney Koi
Runner-up
Blagdon Affinity products, Interpet
Manufacturer of the Year
Rolf C. Hagen
Runner-up
Aqua One