The Northern Goldfish and Pondkeepers Society held its open show on September 13, with the Best in Show being chosen by Nationwide judges represented by the four major goldfish societies in the UK.
These societies are Bristol AS, Association of Midland Goldfish Keepers, North East Goldfish Society and the Northern Goldfish and Pondkeepers Society. They have banded together with identical standards for the many varieties of fancy goldfish under the title 'Nationwide Standards' and will hold their very first National Open Show on Saturday, September 27 at Weston Favell Parish Hall, Booth Lane South, Northampton NN3 3EP.
The four Societies still have their own annual Open Shows — but judges from each club attend to choose Class Winners to the new Nationwide Standards.
The latest one was the NGPS, which held its OS in Stretford, Manchester. There were 175 entries in the 64 Classes which included the varieties Common, Comet, Bristol and London Shubunkins, Calico and Metallic Veiltails and Fantails, Moors, Orandas, Lionheads, Bubble-eyes, Celestials, Pom-pons, Pearlscales, Ranchus, Jikins, Tosakins and Wakins. It was this last variety that won Best in Show.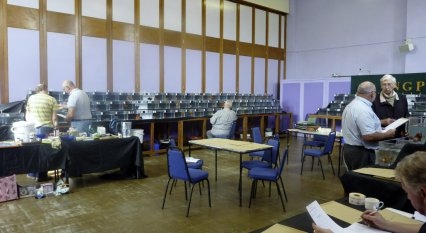 This was chosen by the Nationwide Judges, represented from each of the four Societies, seen here doing the judging in the 175 aquaria....
Every First in each class won a trophy. Here are some of the Firsts, bred by these specialist societies....