Two of the four English Goldfish Societies held their Open Shows this month: Bristol Aquarist Society (BAS) and the Northern Goldfish and Pondkeepers Society (NGPS). Each now show and judge their goldfish to the Nationwide Standards.
The Best in Show at the NGPS open show was the Oranda above by Andrew Barton of AMGK (Association of Midland Goldfish Keepers).
The Best in Show at Bristol was a team of Four Veiltails by Tony Roberts of BAS.
The shows were held on September 6 in Whitehall, Bristol and September 12 in Stretford, Manchester, with seven judges trained to Nationwide Standards. There were over 230 entries in Bristol and over 130 entries in Stretford for the more than 40 classes of goldfish.
At each show an auction was held of home-bred pedigree goldfish with brisk sales ranging from £1 to £76 for the prize-winning fish.
Below are some of the goldfish that won a First in each Class – but first is an NGPS goldfish that didn't win an actual award but did get a lot of attention for its Adolf-like appearance...
Best Comet....

Best Bristol Shubunkin.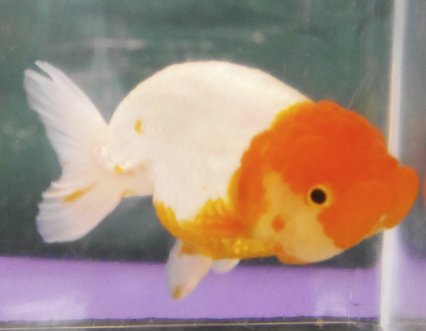 Best Ranchu.
These shows complete the Open Shows by the four goldfish societies for 2015 but they now combine for a grand finale...the 2nd Nationwide Open Show on Saturday, September 26, 2015 at Weston Favell Parish Hall, Booth Lane South, Northampton NN3 3EP, with 63 classes. There will be an auction too, so do visit to buy prize-winning goldfish at bargain prices!
Why not take out a subscription to Practical Fishkeeping magazine? See our latest subscription offer.
Don't forget that PFK is available in digital format for the iPad/iPhone and there's also an Android version on the Google Play news stand.