Fancy a holiday away from it all, where it's just you and the fish? The newly opened Manta Underwater Room could be just what you need.
This private floating island is the newest feature of The Manta Resort, located on the remote island of Pemba, which forms part of the Zanzibar Archipelago off the coast of East Africa. The area is popular with divers due to its untouched reefs and abundant marine life.
Guests staying at the three-storey Manta Underwater Room can sleep in a glass-walled bedroom submerged 4m/13' below the Indian Ocean where they can fish-spot to their hearts' content. The nightlife is pretty good, too as spotlights located under the windows attract and illuminate octopus and squid.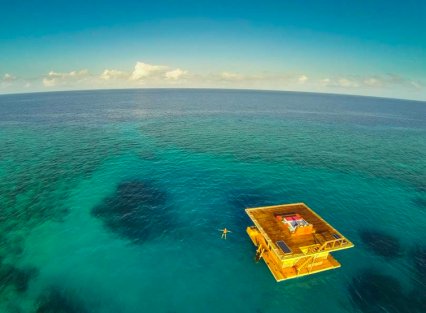 The roof or 'sky deck' of the Swedish-designed hotel is perfect for sunbathing during the day and becomes the perfect spot for stargazing at night.
The lounge and bathroom are located at sea level on the landing deck, which is accessed by ladder.
The hotel is owned by Genberg Art UW Limited and was designed by Mikael Genberg — the same people behind The Utter Inn, a single underwater room located 3m/10' below the surface of a lake near Stockholm in Sweden.
Why not take out a subscription to Practical Fishkeeping magazine? See our latest subscription offer.
Don't forget that PFK is now available to download on the iPad/iPhone.